Welcome to our recommendations for products to prepare your home for puppy!
Although everyone likes something a little different, we thought we would put this page together as a starting spot for you! These are some of the things we have tried and liked, and they are our preference for use here. Hopefully this can help you get an idea of size and types of things to purchase for use in your own home!
These fold-up fences are handy for all kinds of things with a puppy at home! Most commonly, they can be used to confine your puppy to a certain area of the yard, or to keep your puppy in a certain area of your house while training. Make sure you select the appropriate height for your breed, and we suggest the option that has a walk through "door". Depending on the size of area you want to have, it is also helpful to have more than one set that can clip together. These are the gates you will see in many of our puppy videos! They can be folded accordian style to store in a very small amount of space when not in use, and are great in this way for traveling!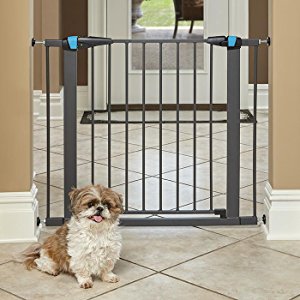 These are infinitely handy for training purposes and teaching your puppy where he or she is and is not allowed. This particular gate has a walk-through door so you don't have to hoist your leg over, and is mounted by pressure, so there are no holes in your wall! Be sure you check the size and get extensions if you need to fit a wider space!
This is one of the great stain and odor removers we use and recommend!
This is a favorite stain and odor remover around here! In fact "Bac-Out" is basically the "Kleenex" of stain removal at our house-----it's what we call everything! It is used in our laundry, carpet, potty training accidents for kids and pups! We love it :)
This is a litter box much like what we use to train the Cockapoos. Although our particular one has been discontinued, this is very similar and a great choice! We do recommend an absorbent mat like the one I will share below to set in front of the box to catch any pellets that come out as pup jumps out. We find this to be a clean and helpful step in potty training-----and using a pellet box is a great skill to keep them acquainted with, especially in apartment living, traveling, or if you have to be gone and leave pup home in a situation where he or she won't be able to be let out for a while. If you would like to mimic what Cockapoo pups are used to at our house, this is what we suggest!
This is something that we recommend if you are going to continue with your Cockapoo puppy in the use of a pellet box. This mat would set outside of the box to catch anything on puppy's feet before he or she walks through your home.
This scoop is pretty self-explanatory.....and you need one if you use a pellet box :)
This is what we use for "litter" in the puppy pellet box! The alfalfa smells like green grass and helps them to transition to pottying in green grass. I will provide a link for wood pellets below as they are cheaper than the alfalfa pellets online and it would be just fine to mix them to keep your cost lower. These really do last a long time though, if you keep scooping out the yucky parts! Very absorbent and keep odor low. You will only want to put an inch or a little more in your tray, you do not want it deep.
And NO.....before you even think it.....DO NOT use kitty litter for puppies. The "clumping" action can kill your pup. So don't even try it! :)
These are a wood pellet that can be mixed with the alfalfa pellet in order to cut cost. We do recommend using some of the alfalfa though, as they smell like grass :)
And be sure to check out the other areas of our store to make sure you have everything ready for your pup!